attorney whitney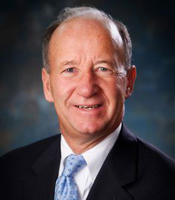 Ronald N. Whitney has more than 30 years of expertise and knowledge with successful legal representation, Ronald N. Whitney is ready to represent you. His skills, knowledge and expertise set him apart. Let Ronald N. Whitney assist you will your legal worries.
Education

Admitted:
1987, Massachusetts; 1988, U.S. District Court, District of Massachusetts
Law School: New England School of Law, Juris Doctorate. Stonehill College, B.S., Accounting
Member: Plymouth County Bar Association, Massachusetts Bar Association, Federal District Court, Admitted to practice before the United States Supreme Court
Biography: New England Scholar. Recipient, American Jurisprudence Award. State Representative, 1995-1996. Selectman, 1993-1996. Board of Directors, Mutual Federal Savings Bank. Past President, Whitman Kiwanis Club.
The information you obtain at this site is not, nor is it intended to be, legal advice. You should consult an attorney for advice regarding your individual situation. Any unauthorized use of material herein is at the user's own risk. Transmission of the information and material herein is not intended to create, and receipt does not constitute, an agreement to create an attorney-client relationship with Attorney Ronald N. Whitney. Contacting Attorney Ronald N. Whitney does not create an attorney-client relationship. Please do not send any confidential information until such time as an attorney-client relationship has been established.